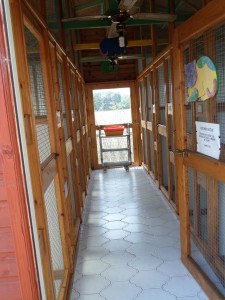 Having been purpose built, Posh Paws cattery opened its doors in May 1998. At this time there were two buildings accommodating 41 pens. In 2001 the cattery was extended with the provision of two more units each housing 10 pens taking the capacity up to 61 pens.
The cattery was built in the grounds of Glynis' home.
For 16 years the cattery was run successfully by Glynis and Sandra.
In 2012 Glynis decided that she wanted a change and put the house up for sale. This meant that the cattery was also now up for sale.
The cattery now entered a period of uncertainty as the future was unknown. Glynis and Sandra were determined that the business should continue, but could they find someone who wanted both the house and the business.
A number of people viewed the property but no-one came forward with an offer.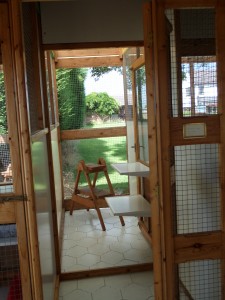 In August 2013 David & Anita were considering what they wanted to do in retirement, both currently being employed in the education sector. Being animal lovers they were looking for some activity for retirement related to animals. The discussion moved to catteries and a search started for catteries that were for sale.
So the two things came together and Anita & David visited Posh Paws to see if this was their future. And that, as they say, is history!
In May 2014 Anita and David moved into Westview Cottage and officially took over ownership of Posh Paws Cattery.
As both David & Anita were still fully employed this presented a problem. Although Glynis had now left, Sandra was still around and we were extremely pleased when Sandra agreed to stay on and work with us running the cattery for us during the week while we are at work.
Posh Paws Cattery now enters a new phase in its history and we look forward to welcoming customers both old and new to Posh Paws.